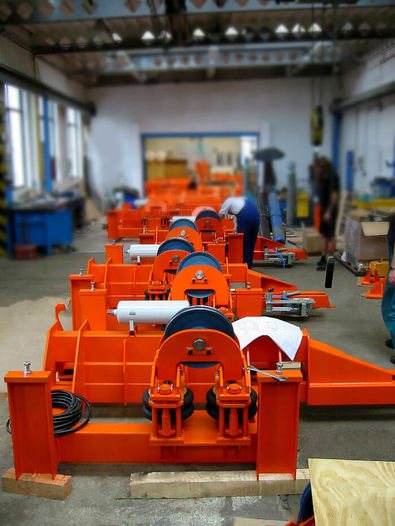 Due to the increasing volume of orders for the production of complete machines and equipment, the assembly of these products has become an integral part of the services we offer, including the electrical installation and the connection of pneumatic and hydraulic components. Installation is usually done in our premises in Svitávka, but it is not a problem for us to carry out the installation on the customer's required site.
Since 2014, a new assembly hall with a total area of 1,200 m2 has been used for the assembly. This hall, which is also used for stainless steel processing, has all the necessary technological equipment in order to make the assembly in the most quality, timely and efficient manner. Since half of 2020, assembly area has been extended by a new modern hall, which increases complete assembly area to total 2000 m2.
Our assembly team, which is proud about the years of experience in the field, also has an automated warehouse system for the safe storage of purchased parts and subcontracts, as well as additional equipment for safe and easy handling of individual parts. Among this equipment belong especially bridge cranes, which allow us to manipulate with completely assembled parts with tonnage up to 30 tons.